Configure Outlook for Campus Email
Overview
---
Find out how to set up your UC San Diego email in Outlook.
 
Critical Concepts
---
Steps to Take
---
1. Enable IMAP
Sign into UC San Diego Gmail at mail.google.com. Select your UC San Diego email or click Add Account.
Click the gear icon and select Settings.
Under the Forwarding and POP/IMAP tab, select Enable IMAP.
Click Save Changes.
2. Add Account to Outlook
Open Outlook and go to File → Info → Add Account.
Select Manual setup or additional server types → POP or IMAP.
3. Configure your account
Your Name: How your name will display
Email Address: Your UC San Diego email address
Account Type: IMAP
Incoming mail server: imap.gmail.com
Outgoing mail server (SMTP): smtp.gmail.com
User Name: Your UC San Diego email address
Password: Your password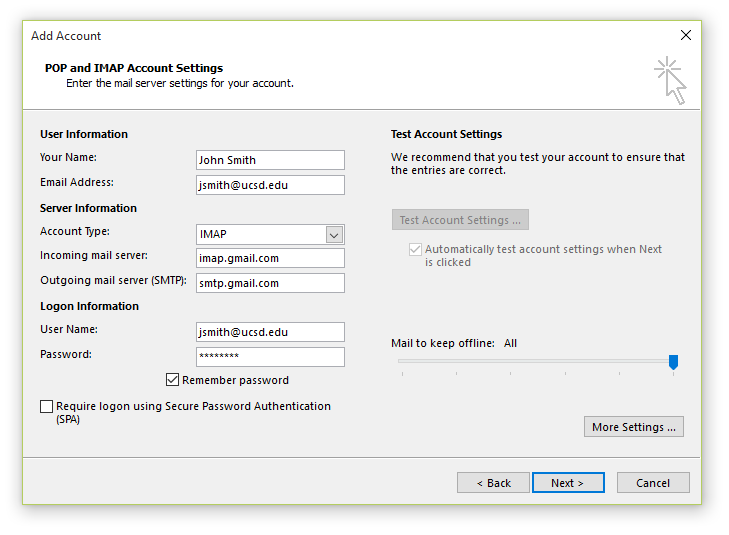 ---
4. More Settings
Click More Settings...

Outgoing Server

My outgoing server (SMTP) requires authentication: Yes
Use same settings as my incoming mail server: Yes


Advanced

Incoming server (IMAP): 993

Use the following type of encrypted connection: SSL

Outgoing server (SMTP): 465

Use the following type of encrypted connection: SSL